1998: Cathedral Visions II Art Competition at the Cathedral Basilica of the Assumption, Covington, KY
Three-panel Easter banners, center-hung, designed and appliqued by Patsy on white fabric woven by Suzanne Halvorson were displayed in the church sanctuary
---
1996: Creations '96 A Celebration of Liturgical Art, Pontifical College Josephinum, Worthington, OH
---
Pentecost Fires, Best of Show Award, Patsy Sue Zawistoski, designer, and Suzanne Halvorson, weaver.
Patsy created this award winning, three-dimensional, center-hung banner set for St. Thomas Lutheran ELCA, Bloomington, IN.
This set was designed and created using fabric from Guatemala, commercial fabric, plus handwoven dyed chenille fabric from the loom of Suzanne Halvorson, Bloomington, IN.
---
July 1996: Handweavers Guild of America Convergence 1996, Portland, OR – Fashion Show Entry: Feather Boa Stole and Off the Shoulder Formal Dress
The stole was woven with 14 feather boas and gold lame fabric to make a fake fur, that was lined with leopard print silk. The bias-cut, one-shoulder dress was woven of white chenille yarn with gold striping and also lined with the leopard print. Stole and dress designed and sewn by Patsy.
---
1993: 26th Annual World Fest – Houston International Film & Video Festival, 1993, Finalist Educational/Instructional -Adult Film & Video Production for Spinning Cotton, Silk & Flax Video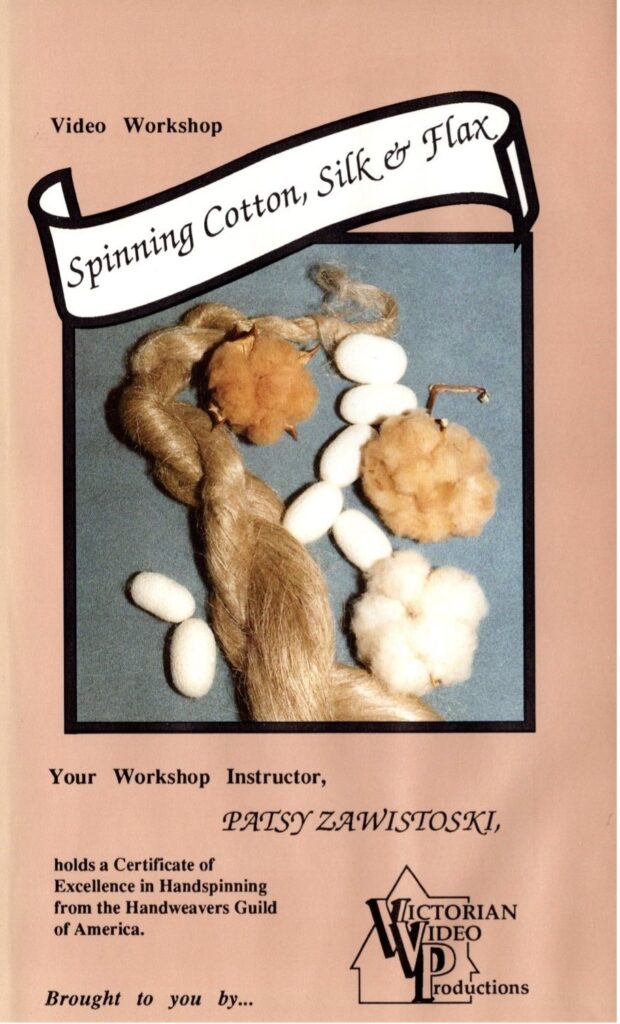 ---
---
July 1992: Handweavers Guild of America Convergence 1992, Liturgical Art Show, National Cathedral, Washington, DC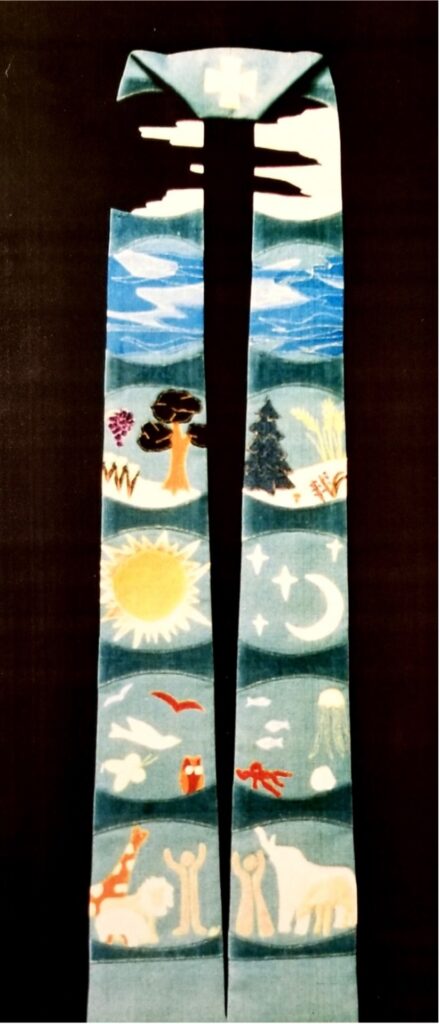 This appliqued stole illustrates the six days of creation.
day 1 darkness from the light
day 2 the waters above from the waters below
day 3 the dry land and the plants that grow on the land
day 4 the sun and the moon in their courses
day 5 the birds of the air and the creatures in the sea
day 6 the animals on land and man and woman
---
October 1987: Handweavers Guild of America, COE Certificate of Excellence in Handspinning Master Level, with a specialty in Spinning Novelty Yarns for Use as Warp, 1987
After the research into my topic, exploratory studies, spinning experimentation and documentation, I needed to create 3-5 pieces that proved I had learned what I sought and understood how to apply the principles.
I created four pieces, the first was a wool and mohair wrap. White loop bouclé, and red wool and mohair faux bouclé in warp. Simple wool two ply as extra warp and all of the weft.
Next was my cotton vest. Cotton Illegal yarn and multi-color flake yarn were the warp. A textured cotton single is the weft.
The third is a Bombyx and Tussah silk scarf.
This silk scarf featured a loop bouclé from spun Bombyx silk.
Silk is too soft to create loops so the bouclé re makes a soft stable textured silk yarn. I used metallic thread as the binders for added sparkle.
Tussah silk singles in warp and weft
The fourth piece uses linen and ramie. My favorite novelty yarn for this type of fiber was a knotted yarn plied against a slub base.
The slub was spun from the white ramie, the knotted yarn was created with yellow dyed flax singles. The singles were then knotted and plied with the white ramie.
A portion of the yellow singles were two plied for the deeper color stripes.
A natural color linen 2ply was used for the weft.
---
October 1985: Handweavers Guild of America, COE Certificate of Excellence for Technical Skill in Handspinning.
This required forty skeins, the first twenty were various sizes from the four historic wool, cotton, silk, and flax. The next twenty included other fibers natural and manufactured, use of various spinning tools, and various plying combinations.
Each skein had its starting materials, an explanation of preparation, spinning equipment used, spinning techniques, finishing, and two uses for this yarn. Except for the silk, all the skeins were two ounces, the silk were only one ounce each.
At the end of each of the eight sections the spinner chose one skein to create a "proof" sample. The spinner needed to spin enough extra yarn to create a file folder size sample using an appropriate technique for one of the uses described.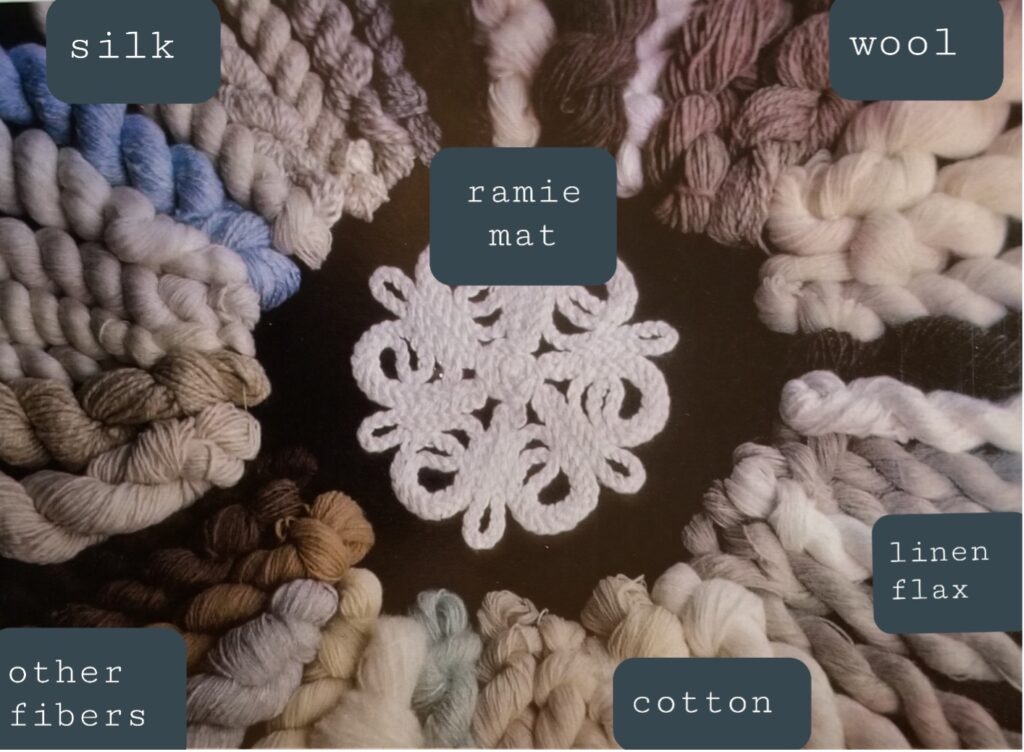 ---
January 1985: Make It Yourself with Wool Contest, National Winner of the Adult Division, Handwoven Category, Interweave Press, Loveland, CO, Handspun, Handwoven Skirt and Hand Felted Vest Ensemble
I was featured in the Spring 1985 Spin-Off, and the March/April 1985, Handwoven, plus a cash prize. I won two contests in the state of Wyoming to become a finalist as Colorado did not have a local contest.
---
June 1984: Wool Affair – American Sheep Producers Council, Certificate of Merit, Handspun, Handwoven Skirt and Hand Felted Vest Ensemble, Greeley, CO.
Only the skirt and vest were finished in time for this contest.
I began spinning in May 1981, weaving in 1973, and sewing in fourth grade.